The Last Leg, Crossing Over the Great Barrier Reef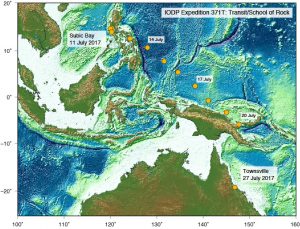 20 individuals from around the world came together to participate in this year's School of Rock Workshop Expedition. The intent was to collaborate within partnerships and brainstorm new methodologies to support underrepresented populations within the geosciences. Each participant was paired with another expert within their field and came from diverse backgrounds. The transit entailed 18 days on board the research vessel, the JOIDES Resolution aka the "JR". The voyage began in Subic Bay, Philippines and will conclude in Townsville Australia, spanning approximately 1400 km, through latitudes 13 north – 16 south. We've traveled through the unforgiving trade winds of the Sulu Seas, through the calm and serene doldrums, to the inter-tropical convergence zone (ITCZ).
While participating in the School of Rock this year it has become evident that sacrifices are made by friends and family for the sake of science. There are roughly 120 individuals on board the JR for this transit. Each of us with loved ones, projects, and plans we've left behind. But one of the many commonalities that we all share is our desire to practice science and share that understanding with those around us. Throughout this program, we've made many new connections, brainstormed project proposals, and will leave better equipped to have a broader impact. We arrived as a partnership and will leave as a team better equipped to address the value of diversity within STEAM education.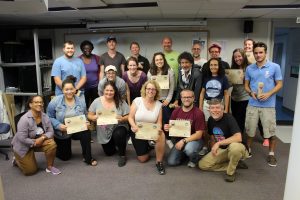 It has been a successful journey uncovering Earth's secrets such as: the various techniques used to process deep sea core samples, the story behind marine micro and nanofossils, paleomagnetism, climate change, the evidence behind the K/Pg boundary, and Earth's structure. The importance of STEAM within education and the geosciences has never been more evident.
I have endless gratitude for the instructors because of the caliber of insight they provided us, and their passion, which was evident and contagious.
FOR MORE INFORMATION:
We've been lucky enough to be passing through the protected waters of the great barrier reef. This is the world's largest living coral reef system which is threatened by the increase in global temperatures. For more information access the following website http://www.nature.org/ourinitiatives/urgentissues/oceans/coral-reefs/coral-reefs-coral-bleaching-what-you-need-to-know.xml
Guest Blogger: Marilyn Raming