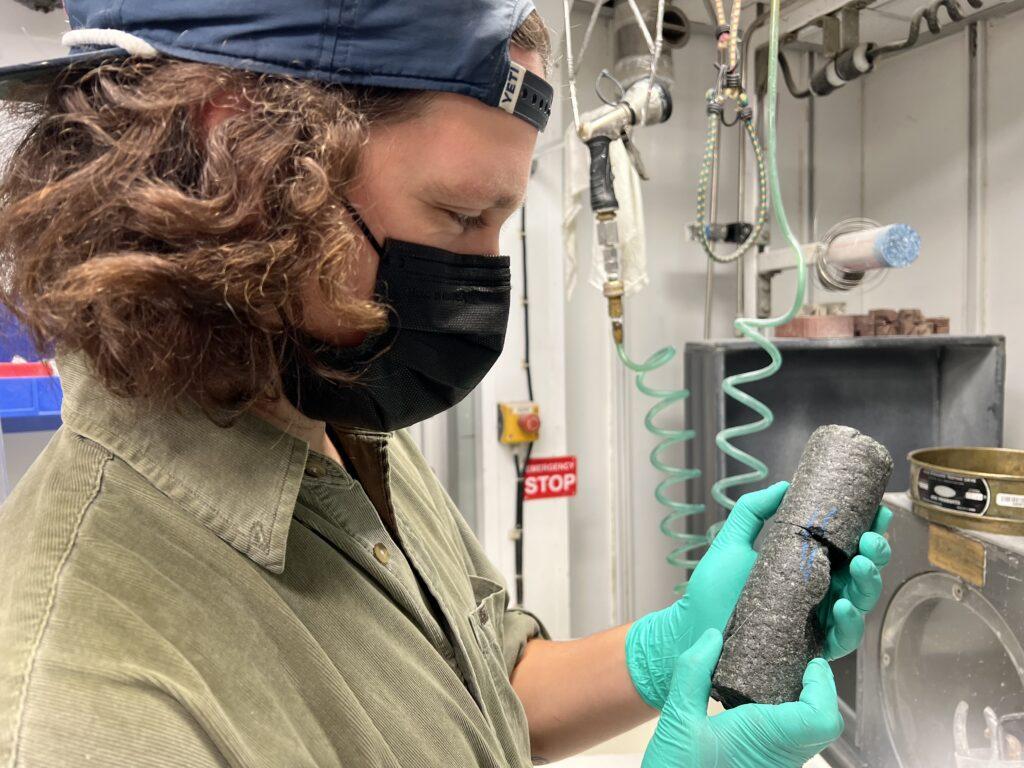 We Came, We Saw, We're Sawing
By Peter Davidson, igneous petrologist, Oregon State University
When I had approached the JOIDES Resolution on the day we boarded, the thing that struck me first was the sheer size of the vessel. It's impossible to capture in photos just how large it is, and seeing it in person was certainly impressive.
It immediately made me excited, especially knowing the legacy of the science that has been carried out here.
Impressive as the exterior is, it's the interior that really sets this ship apart, especially the lab spaces that allow for shipboard analyses of samples. The simple labs on the two ships I had sailed on previously had been quickly assembled by myself and my colleagues once on board. They consisted of little more than sample curation equipment, including several computers for rock descriptions, a photographing station, a rock saw, microscopes for descriptions, and counter space for laying out samples. All of this had to be assembled by us during the short few days we had before we began getting samples on deck.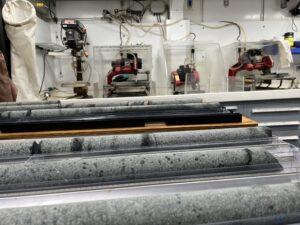 What's amazing about the JR is that all of these spaces were meticulously set up in advance, in addition to actual labs for completing measurements and other such research that's normally relegated to shore-based work, post-cruise.
It's clear that the JR has been a well-oiled machine for a long time. Everything is organized extremely thoughtfully to facilitate a smooth and efficient workflow—something that was rarely achieved on my previous expeditions on other vessels, not even after time passed and plenty of modifications were made.
Some of the lab spaces on the JR are so sophisticated that they rival many of their shore-based counterparts. The rock-saw room, for example, is extremely well laid out. Not only are there four different saws, each for a specific purpose, but each of the saws has well-designed containment systems to trap the water that invariably sprays everywhere when cutting samples.
When core started arriving on deck, this research drillship came alive with scientists buzzing about, each providing their own  expertise to maximize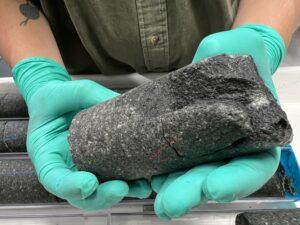 our time onboard.
At the first site, we succeeded in drilling through thick sediment and finally hit basement, from which we retrieved the first rock cores that required sawing to be split open. At the second site, where we're heading today, we should hit basement relatively quickly. There'll be less sticky sediment, more hard rock, and lots more sawing if all goes according to plan.
It's exciting to use these great lab spaces for what we came to do. I feel humbled to be one of those lucky enough to contribute to the mission of Expedition 392.