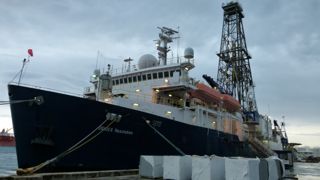 Tomorrow morning, Dec.13th-2016, at 5 o'clock local time, the Joides Resolution will leave the port of Guam. The ship will be pulled out of port, turn west and later on north. It will surround Guam ant then turn eastward to the first drill site. Due to a bad weather forecast the Captain expects rough conditions out on sea. Nevertheless the ship will stick to its timetable. The clouds on the picture indicate the rest of the tropical rain we received all day long.
Schlechte Wettervorhersage
Morgen am 13. Dezember 2016 gegen 5 Uhr morgens wird die Jodies Resolution die Insel Guam verlassen. Nachdem Schlepperboote sie aus dem Hafen gezogen haben, wird sie zunächst nach Westen fahren dann Richtung Norden und zuletzt die Insel umfahren um zur weiter östlich gelegenen ersten Bohrstelle zu gelangen. Gemäß der schlechten Wetterprognose rechnet der Kapitän mit rauer See in den ersten Stunden. Dennoch soll die Ausfahrt wie geplant starten. Die Wolken auf dem Foto erinnern noch an den tropischen Regen, der heute über Guam niedergegangen ist.